Below you can find the list of free SCADA systems (Supervisor Control And Data Acquisition), which are completely free or have some limitations, but still allow for usage and tests. The list is open, which means that we can add another positions.
Perhaps you have heard about SCADA, but you not quite feel it. I will explain what this system is.
SCADA is a software (IT system) that collects information from an object (supervises the course of a technological or production process) and displays it on monitors, e.g. operators. The information (data) comes from devices such as PLCs to which sensors and measuring transducers are connected. SCADA communicates with these controllers, reading states from sensors and measurement values from transducers (e.g. temperature value). Based on these data in the SCADA application, we can view chart patterns, generate reports, react to alarm states and make appropriate decisions about the further course of the process.
DRIVERS – In every SCADA system we can meet with the word DRIVER. Drivers are controllers of the SCADA system, which allow for the communication with the devices having data, e.g. PLC. Even simpler, they are "translators" of data: SCADA understands data from PLC and PLC understands questions and orders of SCADA.
Depending on the SCADA manufacturer, additional drivers can be paid. For example Driver for SIEMENS controllers, Modbus RTU driver, driver for Mitsubishi PLC.
TAGS – in SCADA systems, data read from devices are saved in a database or files, e.g. excel sheets. Each data (e.g. sensor status or pressure value) has its own unique tag or symbol, from which we can refer to a given variable.
In SCADA systems, we can encounter a limited number of tags, that is, possible defined variables, on the basis of which we will develop SCADA visualization. Other tag names we can find are: registers, I / O, variables.
GRAPHICS FOR SCADA AND HMI
Despite appearances, the graphic layout of the visualization screen is very important. The client or operator is not interested in advanced scripts, only if the screens are nice, transparent and intuitive. The subtitles, lights and buttons are not enough to create elegant visualization screens. It is necessary to use graphics, and yet most SCADA systems and HMI panels have the ability to implement images, so why not use this feature. For more, read this article: Where to get graphics for SCADA visualization and HMI panels from? (link do artykuły w j.langielskim)
1. SCADA ISGG FREE50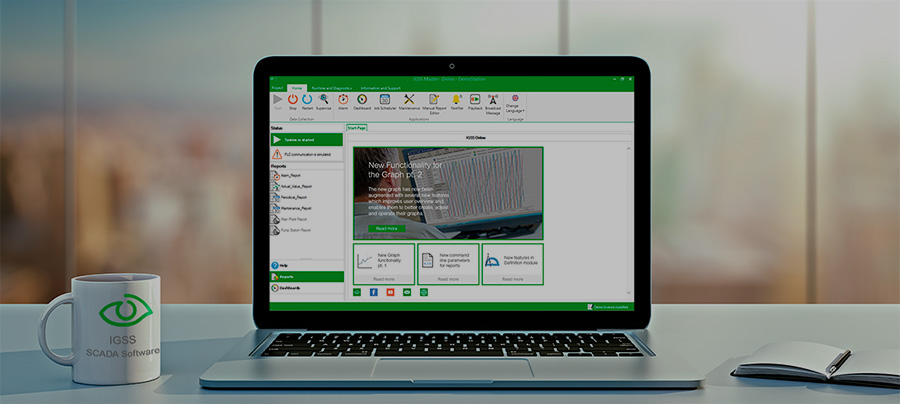 Source: igss.schneider-electric.com
IGSS FREE50 is a free edition of our flagship IGSS V12 (released March 2016) that is a full-featured SCADA System. Free SCADA software has the same full functionality but is limited to setting up a project with 50 objects. IGSS FREE50 includes +70 drivers for PLC. In every time you can update free SCADA version for the commercial system.
The full version of IGSS FREE50 can be run up in demo mode, which allows for monitoring of 1000 variables, but only for one hour. Then you have to restart the system.
2. SCADA PROMOTIC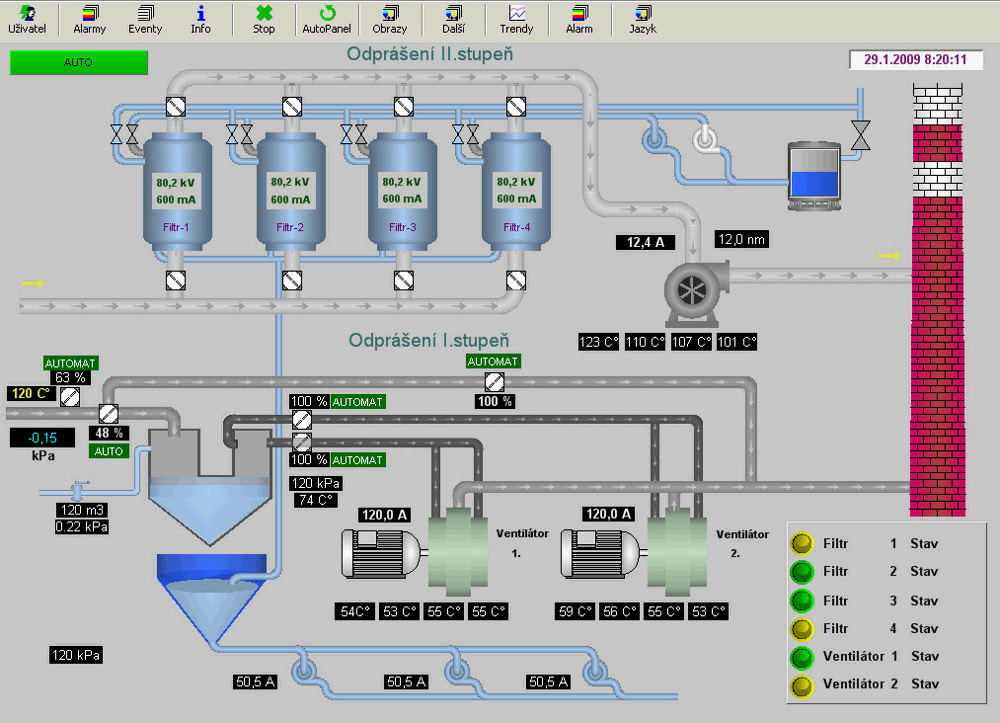 Source: promotic.eu
PROMOTIC application, with a size not exceeding 30 variables and 10 graphic panels, can be use without a license key without a time limit.
3. Free (cheap) RAPIDSCADA software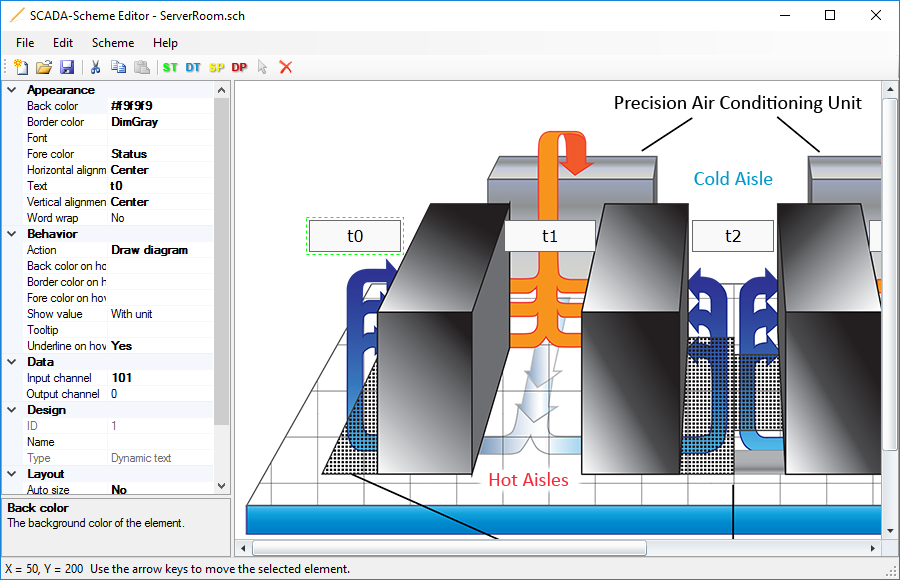 Source: rapidscada.org
Rapid SCADA until recently was a fully functional free SCADA software. The developers have introduced small fees via PayPal in exchange for individual modules. On the website rapidscada.org you can log in to the demo and see how the system looks like. If you are looking for a cheap solution, you can be interested in this software, because the whole looks decent. Trial versions can be downloaded for free.
4. WinLog Lite – free SCADA for 15 minutes

Source: sielcosistemi.com
WinLog Lite is a free version of the SCADA software with WinLog Pro, which makes it possible to create visualizations with the access via web browser. The software automatically stops the sampling of external tags after 15 minutes, but you can start them again manually.
5. VTSCADA LIGHT up to 50 variables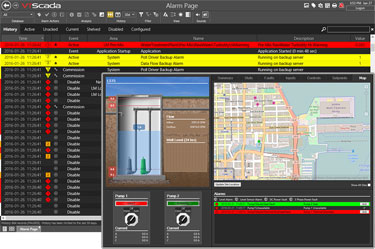 Source: trihedral.com
Developed from 1986 SCADA besides classical functions has the possibility of integration with the map and Microsoft HoloLens device (innovative googles with screen).
6. ADVANCED HMI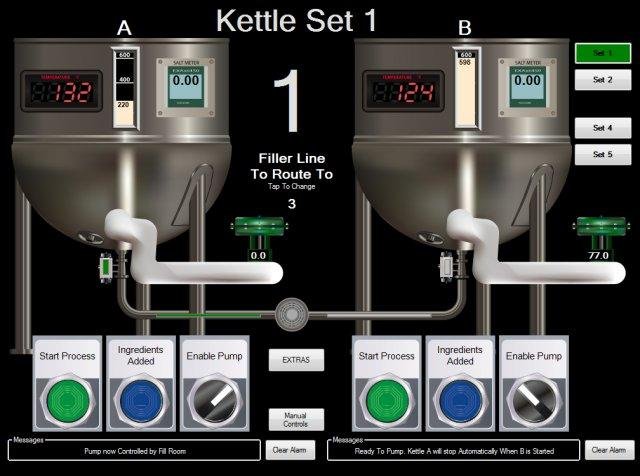 Source: sourceforge.net
Pack of scripts basing on the .NET Framework, allowing to building SCADA in VISUAL STUDIO.
Options and drivers:
– Allen Bradley DF1 RS232 Driver,
– Allen Bradley Ethernet/IP Driver for SLC, MicroLogix, PLC5, ControlLogix, and CompactLogix,
– Beckhof TwinCAT Driver, ModbusTCP and ModbusRTU drivers,
– Omron Drivers,
– Drivers are accessible via VB or C# code,
– Cooperation with Visual Studio Community Edition,
– Tested on Mono on Linux (except OPC and serial drivers),
– cooperation with z Raspberry Pi.
7. Mango Automation SCADA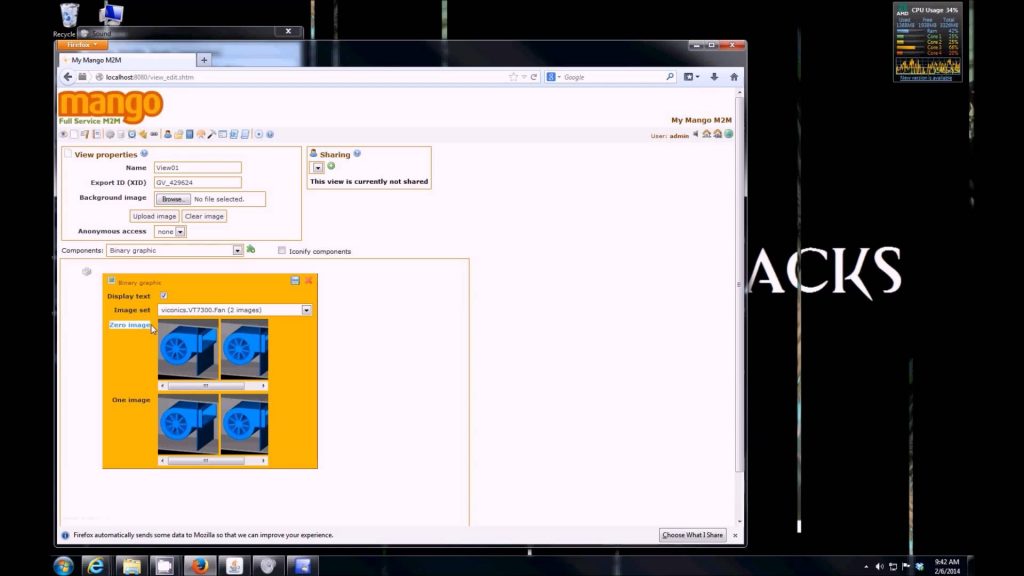 Source: infiniteautomation.com
Free SCADA for uncommercial usage. Limitation up to 300 variables.
8. SCADA LTS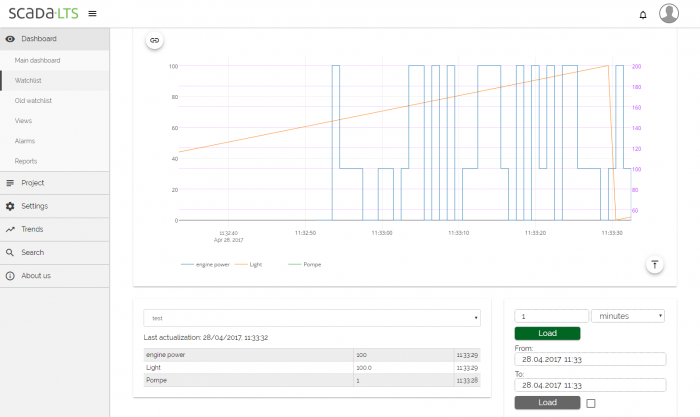 Source: scada-lts.org
SCADA LTS is an example of open software, and source files can be found on GitHub platform.
SCADA LTS is a multi-platform system, which can be used both in big industrial plants such as sewage treatment plants, and by passionate automation specialists.
This system has extremely intuitive interface adapted to individual needs of every user. It is equipped in many useful functionalities such as: possibility of programmatically checking the parameter values and the course of their changes. The use of SCADA LTS also allows you to use your own algorithms to report events. Thanks to them, you can start specific actions, such as running a script or sending messages.
SCADA LTS has no restrictions to the number of measuring points or other elements.