We spend a lot of hours at work, it's a fact, we all want is to work pleasantly on designing, programming, machine building, diagnostics, etc. But if we do not take care of our workplace, the time in work will get longer, work will frustrate us and our productivity will fall. And what follows this is unhappy boss. And when the boss in unsatisfied that means no bonus, etc. You know what I'm talking about.
The 5S methodology is here to help you. You probably already heard about it, or it is already implemented in your workplace. To those who have not met this method yet, I invite you to read this and I will try to present the issues related to 5S.
5S methodology
5S presents Japanese words describing the stages of process of organizing the workplace:
Seiri (Sort)
Seiton (Straighten)
Seiso (Shine)
Seiketsu (Standardize)
Shitsuke (Sustain/Self-discipline)
5S methodology helps to remove from the workplace objects, which are no longer useful (sort), to organize elements, to optimize the efficiency (straighten), to clean the workplace in order to identify problems more easily (shine), to implement color-coding and labels to keep the tidiness in the workplace (standardize) and to promote behaviors, which keep the workplace well organized for a long time (self-discipline).
1. SORT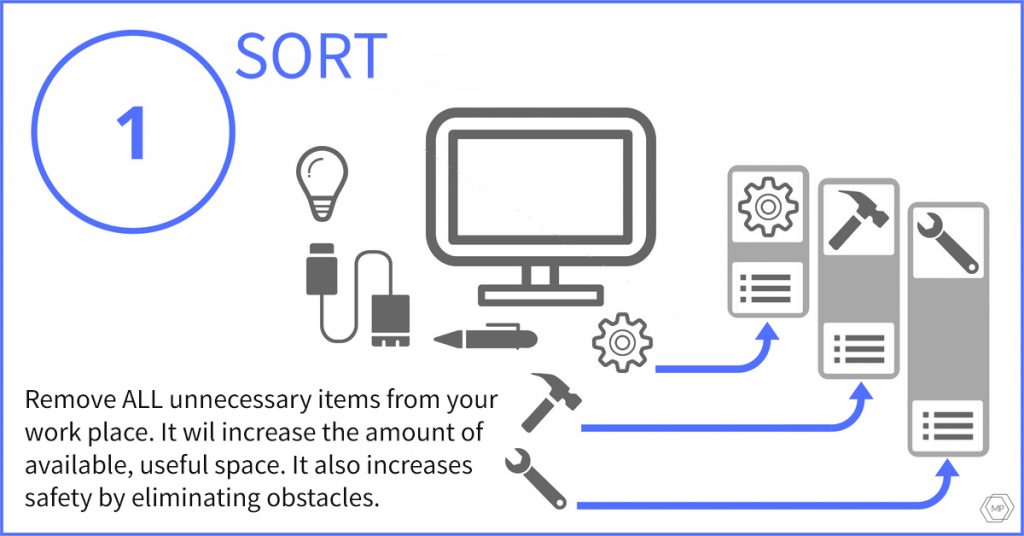 You have to identify and distinguish things that are necessary and useless, and get rid of no longer useful staff. Remove objects, which you don't use – obsolete materials, broken equipment, unnecessary tools, and unused files on a computer. You have to mark with tags all objects, which are unnecessary. Classify all your equipment and materials by frequency of use to help you decide whether to remove them – place labels on items to be removed. Create an area where you can keep items that are difficult to classify – store the item for a certain period to allow other to check these items.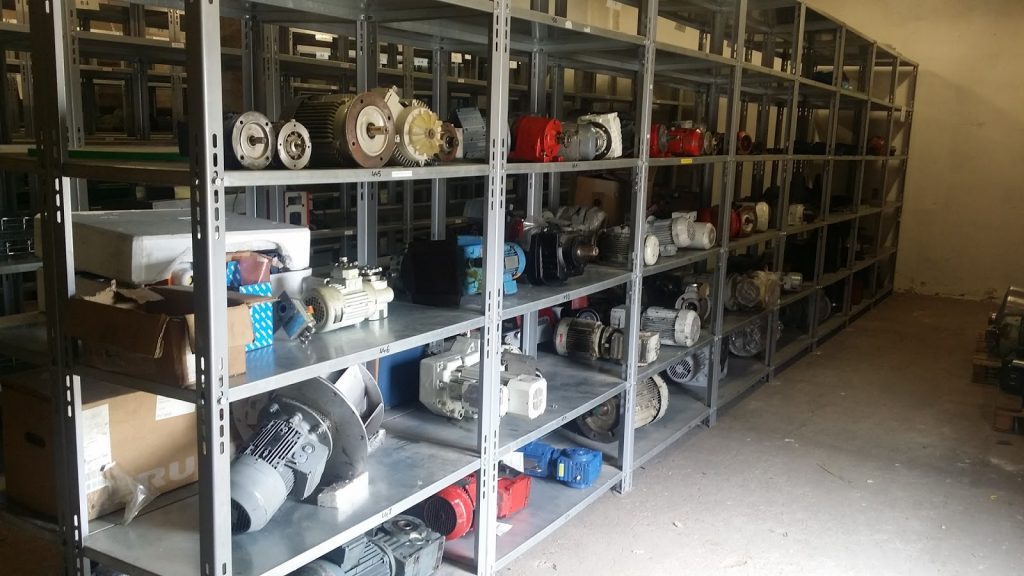 2. STRAIGHTEN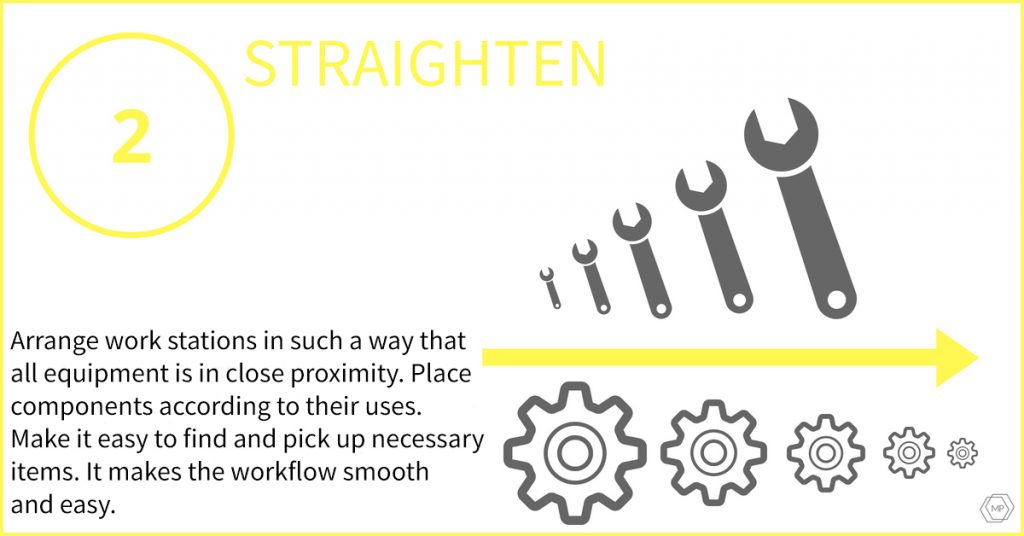 The practice of orderly storage, so that the right object can be chosen effectively at the right time, so the object is easily accessible for everyone. Acting in accordance with the principle – Place for everything and everything on its place. Identify and allocate place for all materials and tools needed for your works. Assig them to fixed places and fixed amount. Place heavy objects at a height, on which they can be easily lifted, etc. according to the principle of ergonomics. Decide how to put things down and follow these rules.
3. SHINE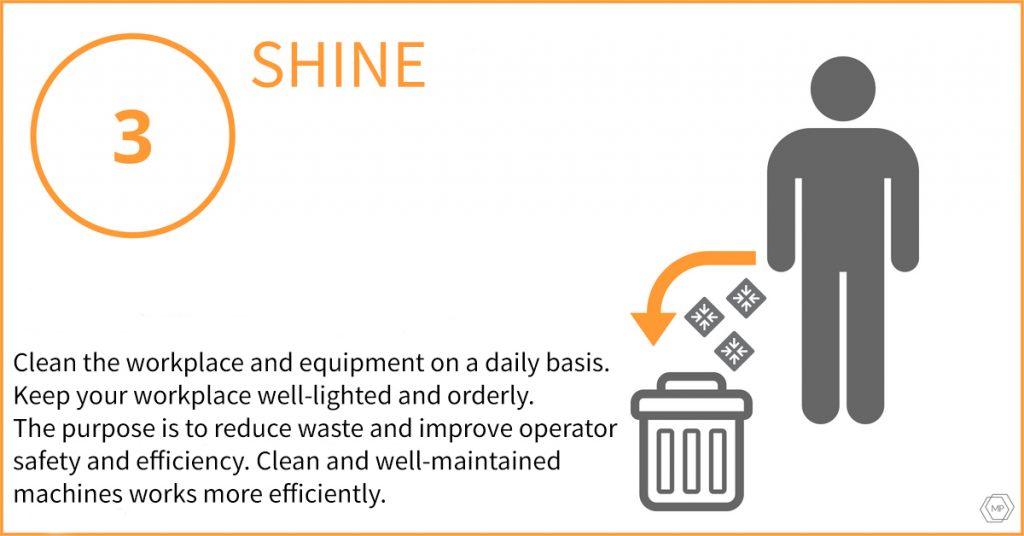 Create a clean workplace without trash, dirt and dust, cleaning can be a part of inspection, thank to which it will be easier to identify problems (leaks, damages, excess of lubricating oil, etc.). Identify the cause of dirt and eliminate it. Tools an equipment should always be keep clean and in excellent condition, ready for use in every moment. Just remember to perform only one activity at a time. Remember about the proper lightning of the workplace. It really helps. Cleaning in the workplace should be everyday routine.
4. STANDARDIZE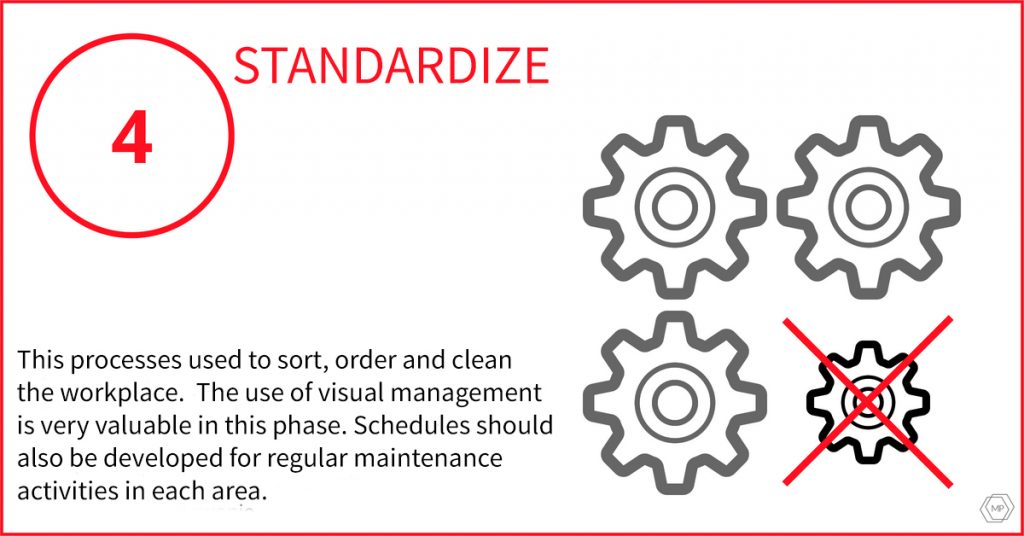 Setting standards for a clean workplace. Standardize through color-coding and labelling the objects, instructions, schemes, schedules, tables. Expose the irregularities for everyone. Create the process of keeping the standard with specified roles and duties, for everyone. Rules should be simple, clear and visual. Make it easy for everyone the identification of normal or subnormal positions of tools and material, for example place the photo on the wall to provide visual comparison.
5. SELF-DISCIPLINE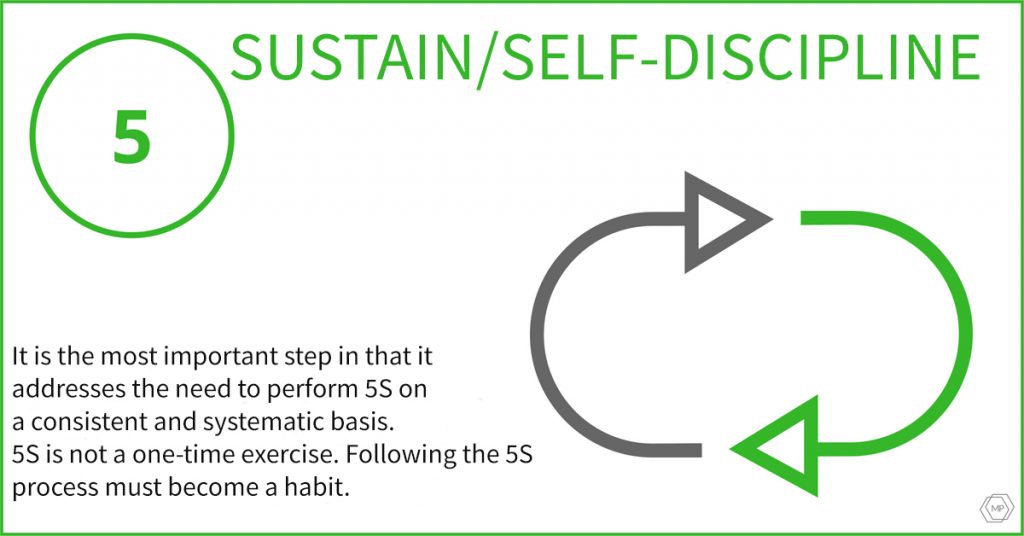 Implementing behaviors and habits in order to maintain established standards over a long period of time and to make a good organization of the workplace are the key to success in managing the process. This is the most difficult 5S phase – Self-discipline – establishing and maintaining responsibility – requires the involvement of all employees, leaders and top management in the implementation of this project. Everyone have to stick to the rules and make it he habit. The need for regular audits and reviews. Continuous improvement is the key to success.
SUMMARY
I hope that I explained the 5S methodology and its issues. 5S is one of many tools used in today's employing institutions which aim is to create and maintain a well-organizes and safe workplace. The introduced changes and improvements resulting from 5S activities are immediately visible. So if in the future, in your adventures with automation you will meet with a place where 5S is actively used, you will already have some basics on this subject, and the employer will guarantee you a 5S training. If you're applying for a job in such an institution, it's worth it!
Author: Maciej P.
Source – iautomatyka.pl (our Polish blog)